Shell Graduate Programme 2023/2024 – Qatar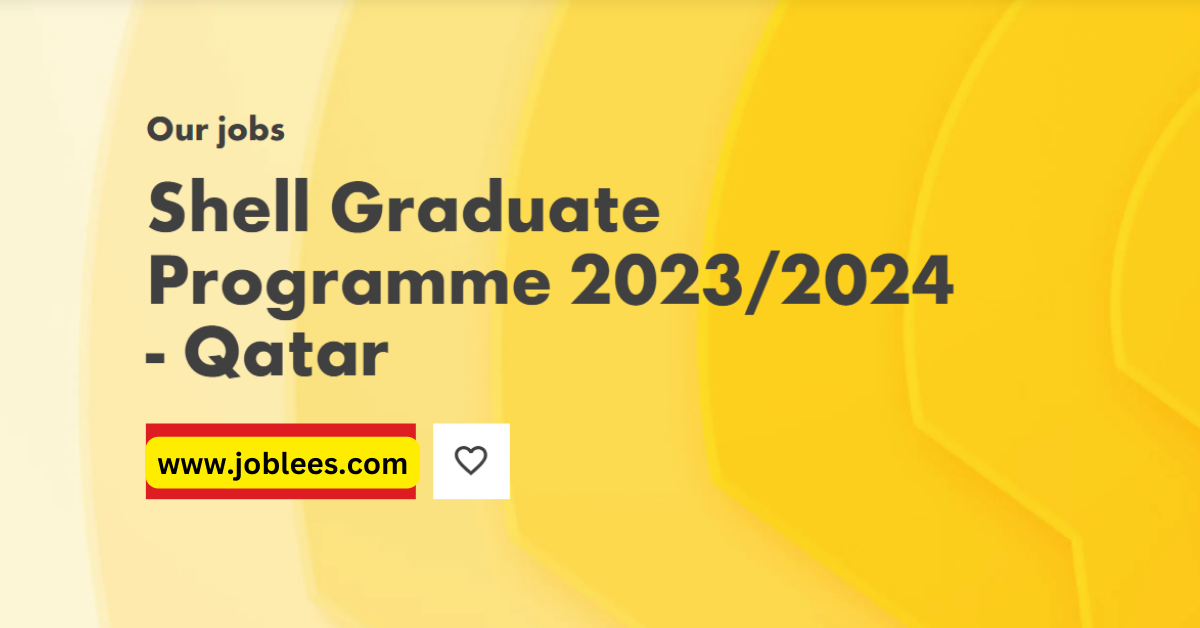 Join us as a Shell graduate and you can be a part of the future of energy. Shell Graduate Programme 2023/2024 – Qatar
Shell Graduate Programme 2023/2024 – Qatar
Shell Graduate Programme
Together, we are making the shift to become a firm with net-zero emissions while also supplying the energy that people all around the globe require right now.
You will have the chance to develop your talents while working with knowledgeable coworkers on these significant issues in a setting where we value honesty, integrity, and respect for one another.
Whichever area of our company you join, you will have the possibility to collaborate with seasoned colleagues and contribute your own viewpoint and innovative solutions to problems relating to energy. We are seeking graduates who share our mission and enthusiasm for advancement because of this.
You will get the support you need to establish your own career, develop your talents, and take on challenging tasks from day one thanks to our inclusive and collaborative culture.
At Shell, you can fuel your advancement as we jointly address the energy crisis.
Qatar With Pearl GTL being the largest GTL facility in the world, Shell is one of Qatar's biggest foreign investors. Joining our graduate programme will inspire you to work in a stimulating atmosphere on some of the most cutting-edge energy projects in the world.
Also Read: Cabin Crew Recruitment in Qatar Airways 2023
Develop the energy solutions of tomorrow and today
Shell Graduate Programme
How can the world achieve net zero emissions while supplying the safe, reasonably priced energy that sustains life? You'll get the chance to gain practical experience working on initiatives that are addressing this topic. You will have the opportunity to influence change in the energy system by collaborating with seasoned colleagues who contribute knowledge from a variety of fields.
Grow your skills: learn today, lead tomorrow
Shell Graduate Programme
You'll be given a position with interesting challenges and possibilities when you join. With the chance to work on a range of projects that are at the cutting edge of technology, trends, and practises, you will be assisted in creating a development journey that is specific to your talents and requirements.
The "learner mindset" culture at Shell helps each of us reach our full potential by fostering a supportive, high-performance workplace focused on openness, curiosity, and growth. In this setting, you may learn from experiences and develop the skills necessary to advance now and take on leadership roles in the future.
Collaborate with experienced colleagues
Shell Graduate Programme
You may continue to grow and learn at Shell by connecting with people in a worldwide network of knowledge. At Shell, we encourage individuals to adopt new perspectives and benefit from the variety of backgrounds, cultures, thoughts, and knowledge.
Achieve balance in a values-led culture
We uphold our fundamental principles of honesty, integrity, and respect, enabling you to work in a setting that respects your particular path and pushes you to be the greatest version of yourself.
Please visit our website at https://www.shell.com/graduates to learn more about Shell jobs.
Power Your Progress
Shell Graduate Programme
You should look forward to challenges, so that when a work appears to be unattainable, rather than being intimidated or overwhelmed, you relish the chance to be creative. Additionally, you must be adept in knowledge retention, problem-solving, decision-making, and the generation of fresh ideas. You need to be motivated and tenacious to complete tasks, adaptable to work well in a team environment, and credible enough to persuade others.
To be eligible for the Shell Graduate Program, you must meet the below requirements:
You are required to have graduated prior to your first day at Shell.
Qatari National
Minimum bachelor's degree
Less than three years of experience (0 – 3 years)
Enginering grads (Mechanical, Civil and Chemical majores)
Economist or Commercial Grads
You must have the ability to work in Ras Lafan
Male candidates need to complete the national service.
How to Apply
If you are interested the Shell Graduate Programme 2023/2024 – Qatar, Please click the following link and apply now
Please be advised that joblees.com acts as a job information hub, centralizing opportunities for our esteemed users. We do not engage in direct or indirect job provision. The decision to apply for any job should be made at your own discretion and risk.