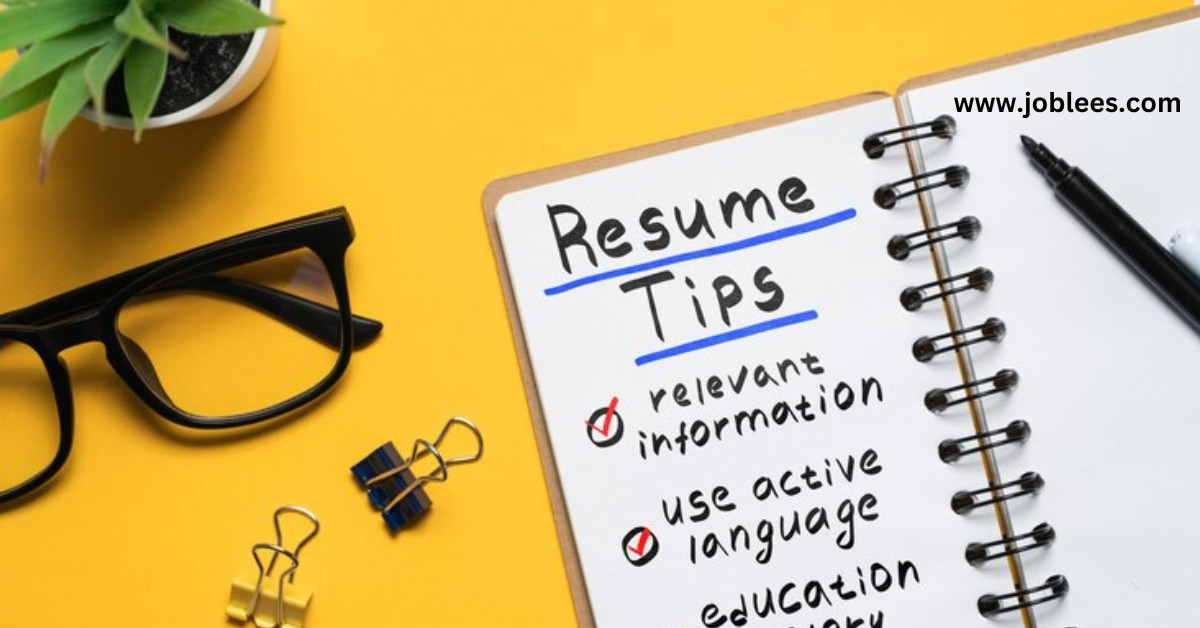 Crafting a Compelling and Effective Resume
Resume Tips and Tricks: Making a good first impression on a potential employer starts with your CV, so make it matter. A strong CV may help you stand out from the competition and get you an interview. However, it can be challenging to know where to begin because there are so many contradictory bits of advise. Here are some pointers and strategies to assist you in creating a fantastic and powerful CV.
Tailor your resume to the job you're applying for
Sending boilerplate resumes for every position you apply for is one of the greatest blunders job searchers make. It won't make you stand out from the competition and may make your CV look uninspiring and impersonal. Instead, tailor your CV to each position you apply for by emphasising your qualifications that are most pertinent to the job. This demonstrates to the employer that you have given it careful thought and that you are a suitable match for the position.
Keep it concise and to-the-point
Resume Tips and Tricks
Making a good first impression is essential since hiring managers often just give each résumé a brief glance. Focus on the most crucial details in your brief and to-the-point resume. Use bullet points to make your resume simpler to read and keep it to one or two pages. Stay away from lengthy paragraphs and superfluous information that have nothing to do with the position you are applying for.
Highlight your achievements, not just your responsibilities
Your resume should highlight your successes and demonstrate how you contributed value to your prior employers in addition to listing your work tasks and responsibilities. For instance, you may state "managed a team of sales reps and increased sales by 25% in one year" rather than merely "managed a team of sales reps." This kind of material aids the employer in comprehending the contribution you produced in your former position and the reasons why you would be beneficial to their business.
Use keywords relevant to the job
Employers frequently check resumes using applicant tracking systems (ATS) and weed out applicants who don't fit particular requirements. Include keywords related to the position you're looking for to ensure that your resume passes the ATS. These keywords, which should contain pertinent abilities, credentials, and experience, should be taken from the job description.
Make sure your resume is visually appealing
A professionally prepared resume may make you stand out from the competition and leave a good impression on potential employers. To make your resume more visually appealing, use a simple, expert-looking typeface, use distinct headers and bullet points, and think about include a splash of colour. To prevent making your resume hard to read, keep the design simple and stay away from using too many graphics or photographs.
Proofread, proofread, proofread
Carefully editing and proofreading your resume is one of the most crucial tasks in producing a powerful one. One grammatical or spelling error might leave a negative impression on a potential employer and lessen your chances of landing the job. Spend some time going over your resume many times and getting a second opinion.
Conclusion
Resume Tips and Tricks
Finally, a well-written and professionally designed CV may significantly impact your employment search. You may improve your chances of being seen by potential employers by emphasising your accomplishments, utilising keywords associated with the position, and maintaining a resume that is both aesthetically appealing and error-free. As a result, give your CV some thought and effort, and good luck with your job hunt!
Disclaimer: Please note that joblees.com only provides jobs in a single place for our valuable users. We are not providing jobs directly or indirectly. Apply for the jobs at your own risk. Thank you