Blog
Resume Tips and Tricks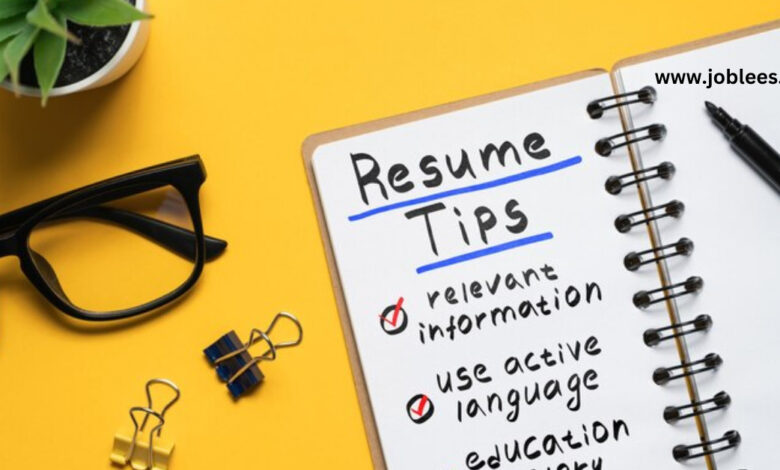 Crafting a Compelling and Effective Resume
Resume Tips and Tricks: Your resume is often the first impression you make on a potential employer, so it's important to make it count. A well-written resume can set you apart from other job candidates and help you secure an interview. However, with so many conflicting pieces of advice, it can be difficult to know where to start. Here are some tips and tricks to help you craft a great and effective resume.
Tailor your resume to the job you're applying for
One of the biggest mistakes job seekers make is sending out generic resumes for every job they apply for. It can make your resume seem uninteresting and impersonal, and it won't help you stand out from other candidates. Instead, build your resume for each job you apply for by highlighting the experience, skills, and accomplishments most relevant to the specific position. This shows the employer that you have taken the time to understand their needs and that you are a good fit for the role.
Keep it concise and to-the-point
Resume Tips and Tricks
Hiring managers typically only spend a few seconds reviewing each resume, so it's important to make a strong impression right away. Keep your resume short and to the point, focusing on the most important information. Limit your resume to one or two pages and use bullet points to make it easier to read. Avoid long paragraphs or excessive details that are not directly related to the job you are applying for.
Highlight your achievements, not just your responsibilities
Your resume should not only list your job duties and responsibilities, but also showcase your accomplishments and how you added value to your previous employers. For example, instead of just saying "managed a team of sales reps," you could say "managed a team of sales reps and increased sales by 25 percent in one year." This type of information helps the employer understand the impact you made in your previous role and why you would be an asset to their organization.
Use keywords relevant to the job
Many employers use applicant tracking systems (ATS) to track resumes and filter out candidates who don't meet certain criteria. To make sure your resume gets past the ATS, include keywords relevant to the job you're applying for. These keywords should come from the job description and include relevant skills, qualifications and experience.
Make sure your resume is visually appealing
A well-designed resume can help you stand out from other candidates and make a positive impression on employers. Choose a clean and professional-looking font, use clear headings and bullet points, and consider adding a pop of color to make your resume more appealing. However, make sure to keep the design simple and avoid including too many graphics or images, as these can make your resume difficult to read.
Proofread, proofread, proofread
One of the most important steps in creating a strong resume is to carefully proofread it. A single spelling or grammar mistake can make a bad impression on an employer and reduce your chances of getting hired. Take the time to review your resume several times and have someone else look over it.
Conclusion
Resume Tips and Tricks
Finally, a well-written and well-crafted resume can make a big difference in your job search. By highlighting your accomplishments, using keywords relevant to the job, and keeping your resume visually appealing and error-free, you can increase your chances of getting noticed by potential employers. So take the time to create a great and effective resume, and good luck in your job search!
Disclaimer: Please note that joblees.com only provides jobs in a single place for our valuable users. We are not providing jobs directly or indirectly. Apply for the jobs at your own risk. Thank you