Senior Quality Technician Jobs in Nestle Ireland 2023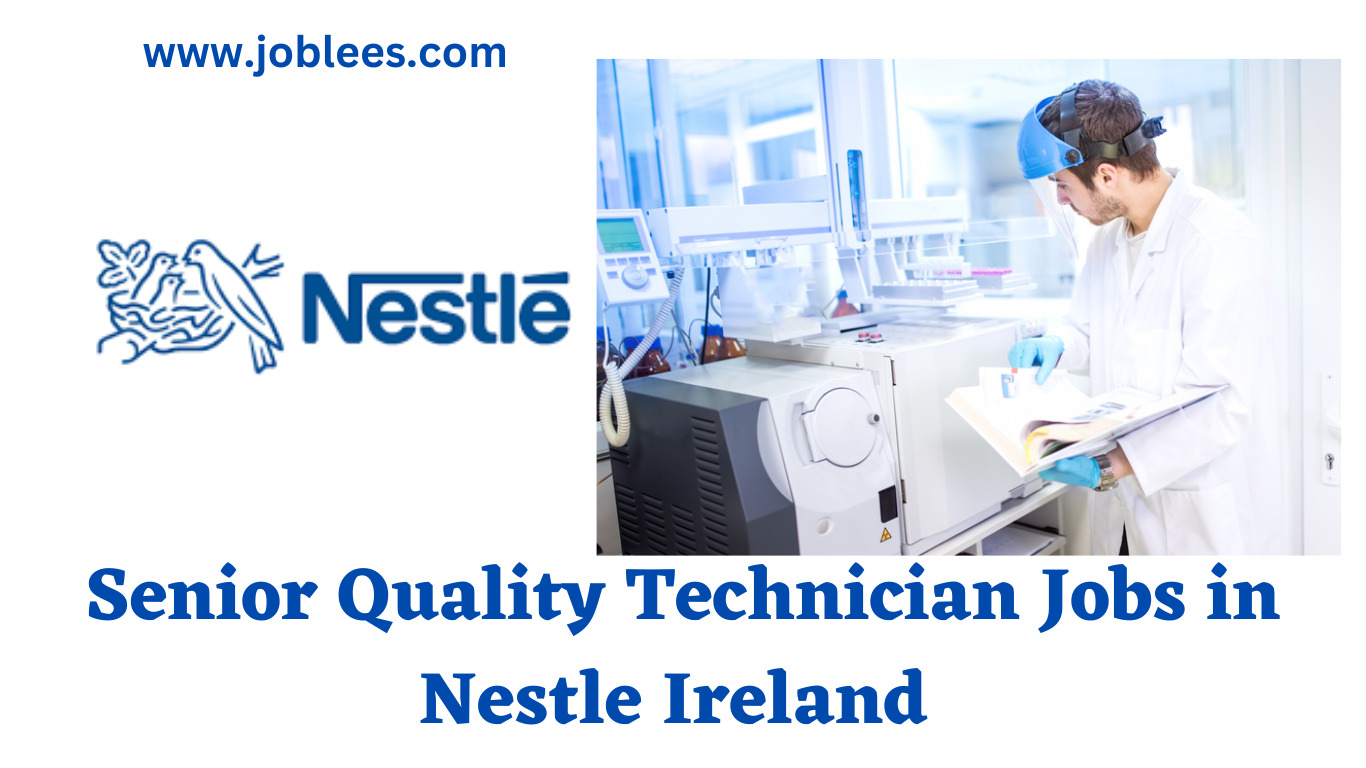 If you are interested, here are excellent jobs opportunity. Nestle announced the Senior Quality Technician Jobs in Nestle Ireland 2023. More details about these jobs are as below.
Senior Quality Technician Jobs in Nestle Ireland
| | |
| --- | --- |
| Hiring Company | Nestle |
| Job Title | Senior Quality Technician Jobs in Nestle Ireland 2023 |
| Position | Senior Quality Technician |
| Location | Dublin- Ireland |
| Experience | 1 year practical relevant experience |
Senior Quality Technician Jobs in Nestle Ireland
Position Summary
This role uses conventional laboratory practice's, standardized operating procedures, and/or fundamental laboratory techniques, functions, and equipment to carry out routine duties relating to sample processing and assays while documenting them. The position entails carrying out specific procedures and tests in the laboratory, which calls for the use of applied knowledge and practical skills acquired through on-the-job training. It also requires the ability to modify or adapt techniques to fit particular needs or problems, calculate data from routine tests to final results, and evaluate such results for accuracy where expected findings are not precisely defined but sufficient guidelines exist for reference, and occasionally perform specialize.
Provide support to laboratory department by performing and/or coordinating a variety of Laboratory processes:
• Registers and prepares samples for general analytical testing through data entry, weighing and physical homogenization.
• Preps and performs routine to more complex analyses per NQAC methods.
• Reads and records results of analyses, making sure to keep identification numbers matched with correct samples.
• Operates basic laboratory equipment such as balances, pH meter, autoclave, etc.
• Prepares (and assures accuracy of) standards, reagents, etc. needed for analyses.
• Functions as primary data generator, records and calculates data.
• Performs routine lab and department maintenance to keep area clean and orderly.
• Conducts preliminary interpretations of data or observations, and drafts short reports to supervisor.
Provide assurance of quality and support of quality processes for the Laboratory/Center:
• Assure quality of results by assisting with establishment and maintenance of QA documents, plans and ICPs.
• Document QA data and report to lead or management.
• Assure equipment is maintained in reliable working order and make repairs or modifications within the capability of the Technician or request repairs.
Processes/Methods
• Identify and resolve process problems.
• Participate/lead in Lean Laboratory initiatives.
• Assist in write-up, review, and provide proper documentation for processes or methods as experience allows.
Qualifications
Education:
• High School diploma or equivalent required; undergraduate degree in closely related science preferred (i.e. Microbiology, Chemistry, Biology)
Skills
• Basic computer skills (Microsoft Office Applications: Outlook, Word, Excel, etc.)
• English Language Skills (Basic reading, writing, speaking, etc.)
• Contributes to a team environment and builds effective relationships.
• Emerging level initiative, results focus, and follow through.
How to Apply
If you are interested in the Senior Quality Technician Jobs in Nestle Ireland, please send your CV to the email address given below.
Disclaimer
Please note that joblees.com only provides jobs in a single place for our valuable users. We are not providing jobs directly or indirectly. Apply for the jobs at your own risk. Thank you