Blog
A Guide to Ace Your Next Interview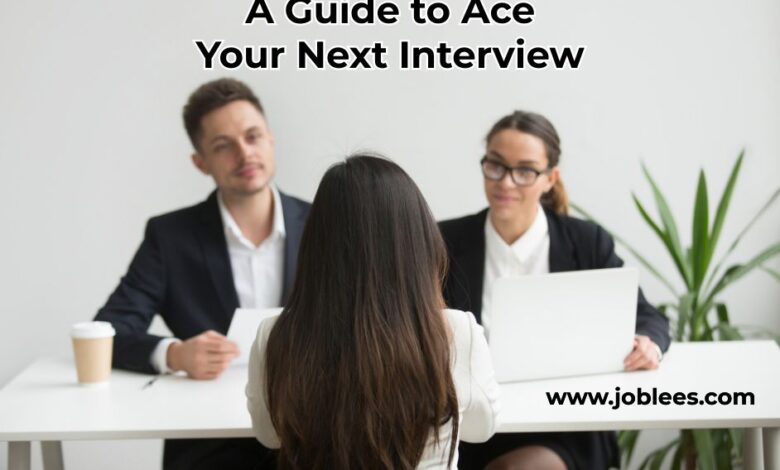 A Guide to Ace Your Next Interviews can be nerve-wracking experiences, especially if you're applying for your dream job. However, with the right preparation and mindset, you can improve your interview skills and increase your chances of landing the job. This guide will give you tips and tricks for your next interview.
What is Interview
An interview is a conversation between two or more people, where someone is asked questions to gather information, such as assessing their qualifications for a job or determining their suitability for a role. to do Interviews can take a variety of forms, including in person, over the phone, or via video conferencing.
1. Research the Company and the Job
Before the interview, it is very important to research the company and the job you are applying for. You can start by visiting the company's website, reading their mission statement and recent press releases, and researching the industry. This will give you a better understanding of the company's goals and culture and help you determine if the job is a good fit for you.
Additionally, researching the job will help you understand the responsibilities and qualifications required. This will give you a better idea of what the interviewer is looking for in a candidate. You can use this information to tailor your answers to the job requirements and highlight your relevant skills and experiences.
2. Prepare for Common Interview Questions
Most interviews will include general questions such as "Tell me about yourself," "Why do you want to work for our company?" and "What are your strengths and weaknesses?" Preparation is key when it comes to answering these questions, so make sure you think about your answers in advance.
While it's fine to prepare a script, make sure your answers sound natural and not memorized. Try to personalize your answers to the specific company and job you're applying for, and avoid generic or cliche answers.
3. Dress Professionally
Your attire can have a big impact on the interviewer's first impression of you. Be sure to dress professionally and appropriately according to the company's dress code. Avoid wearing anything that is too revealing or distracting, and make sure your clothes are clean and wrinkle-free.
4. Arrive Early
Plan to arrive at least 15 minutes before your scheduled interview. This will give you time to calm your nerves and relax. It will also show the interviewer that you are punctual and reliable.
5. Make Eye Contact and Smile
During the interview, make sure to make eye contact with the interviewer and smile when appropriate. This will show your confidence and interest in the work. Avoid looking down, slouching, or slouching, as these gestures can indicate nervousness or a lack of confidence.
6. Listen Carefully and Ask Questions
During the interview, listen carefully to the interviewer's questions and think for a while before answering. If you need clarification, don't hesitate to ask. Additionally, ask your own questions. It shows that you are interested in the company and the job and that you are willing to engage in a two-way conversation.
7. Follow Up After the Interview
After the interview, it's a good idea to send a follow-up email to thank the interviewer for their time. This can also be a good opportunity to reiterate your interest in the job and clarify any questions or concerns you may have. Make sure to keep the email short and to the point, and read it carefully before sending.
Conclude
Finally, interviews can be nerve-wracking, but with the right preparation and mindset, you can improve your interview skills and increase your chances of landing the job. Remember to research the company and the job, prepare common interview questions, dress professionally, arrive early, make eye contact and smile, listen carefully and ask questions, and follow up after the interview. good luck!