Fashion Consultant Jobs in Qatar 2023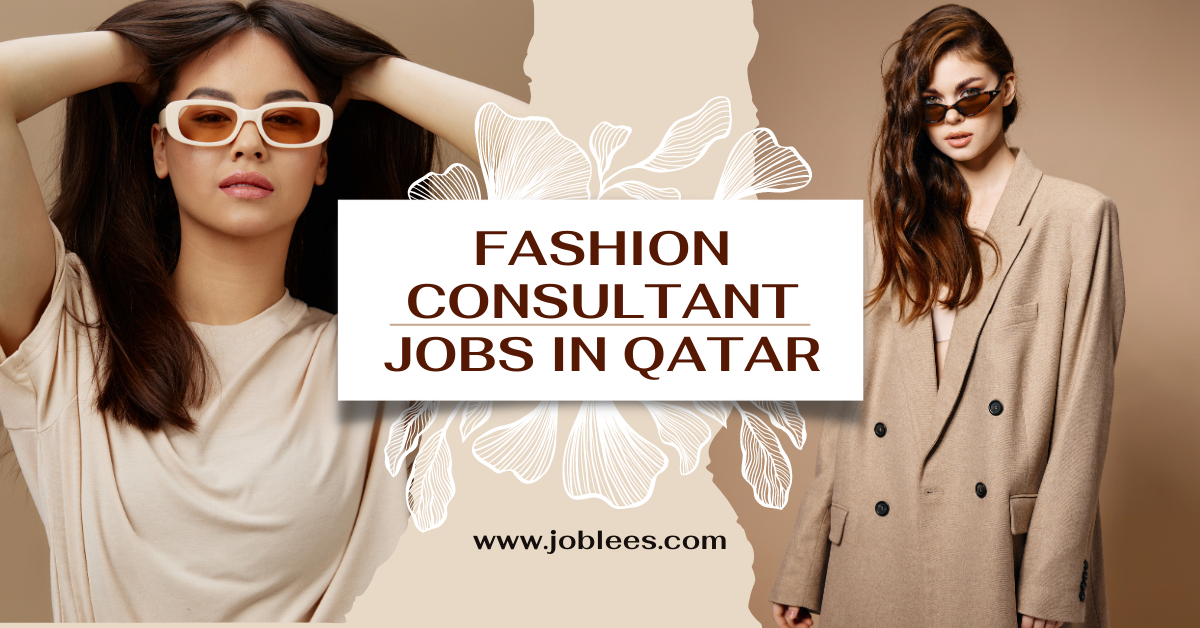 If you are interested, here are excellent jobs opportunity. Chalhoub Group announced the Fashion Consultant Jobs in Qatar 2023. More details about these jobs are as below.
Fashion Consultant Jobs in Qatar
Jobs Details Fashion Consultant
| | |
| --- | --- |
| Hiring Company | Challhoub Group |
| Positions | Fashion Consultant |
| Job Location | Doha, Qatar |
| Experience | 1 – Year |
| Education | High School to Master |
| Last Date | 31 August 2023 |
Fashion Consultant Jobs in Qatar
Also Read: Security Supervisor – CCTV Jobs in Qatar
Job description
Fashion Consultant Jobs in Qatar
The Chalhoub Group has been a Middle Eastern collaborator and innovator of luxury experiences for more than 60 years. The Group has strengthened its distribution and marketing services with a portfolio of eight owned brands and more than 300 foreign brands in the luxury, beauty, fashion, and art de vivre sectors as part of its effort to flourish as a hybrid retailer. The Group recently expanded its expertise into new areas of high-end jewellery, watches, and eyewear.
Chalhoub Group always keeps the consumer in mind when making decisions. Each touch point contributes to the customer's satisfaction, whether it's through ongoing self-reinvention or a focus on innovation to offer luxury experiences at more than 750 experiential retail locations, online, and through mobile applications.
With 14,000 creative and competent employees spread across seven nations, Chalhoub Group is now the third-ranked Great Place to Work in the Middle East and first in Saudi Arabia thanks to their cooperative efforts.
The Group established "The Greenhouse" as an innovation hub as well as an incubator and accelerator for start-ups and small businesses in the area as well as abroad in order to continue the innovation journey. This is only one of the Group's many attempts to reinvent itself that have been inspired by forward-thinking and future-proofing. The Group has also made sustainability a central component of its business strategy via a strong commitment to its employees, partners, and the environment, as well as through membership in the UN Global Compact Community and signing the Women's Empowerment Principles.
What you'll be doing
Fashion Consultant Jobs in Qatar
Chalhoub expresses the extraordinary! In your role as a fashion consultant, you will be accountable for hitting both individual and group sales goals while providing an outstanding guest experience, as well as making sure that important customer and employee initiatives like CRM and CX are supported in-store.
Data on consumer behavior's, top sales, and sluggish movers will be collected, and will be a crucial component of company evaluations.

– Drive client relationships within an omni-channel approach
– Provide pre-buying feedback on products
– Drive eNPS through people experience initiatives and culture
– Ensure adherence to VM guidelines and Standard operating procedures (SOPs)
– Ensure click and collect are conducted within SLAs (Service-level agreement)
– Ensure customer data is properly captured in adherence to marketing team requirements
– Promote loyalty program (MUSE) and stay up-to-date with app offerings etc..
– Support with in-store marketing events and activations
– Keep abreast of all brand social media activities and campaigns
– Drive sell-throughs within the store
– Support in-store CX initiatives
– Provide input to what 's working well /what's not working well within the store
Requirements
Fashion Consultant Jobs in Qatar
What we can offer you
Your dreams will come true when you work with us. Through enlightening encounters, chances for learning and growth, and exposure to various tasks within your position or through internal mobility, we will assist in shaping your path. For individuals who are exceptional, our Group provides a variety of professional possibilities every day.
We respect what you contribute, therefore we endeavor to offer a competitive benefits package that includes health insurance, a contribution for your child's education, remote and flexible working options, as well as exclusive employee discounts.
About the Company
Since 1955, The Chalhoub Group has been the premier partner for luxury in the Middle East. The group has grown to be a significant regional player in the fashion, beauty, and gift industries as a specialist in retail, distribution, and marketing services located in Dubai.
Chalhoub Group is creating brands in the area by fusing its Middle Eastern expertise with its in-depth understanding of luxury. It does this by providing outstanding service to all of its partners and a one-of-a-kind experience to its clients through its dedicated workforce.
The success of the firm, which employs more than 9,000 people and has over 470 retail locations across 14 countries, is credited to its most valuable asset—its highly trained and devoted personnel. The Chalhoub Group's competitive edge in the current market is fueled by professionalism and enthusiasm.
The Chalhoub Group was given the CSR Label by the Dubai Chamber of Commerce in 2013 for their dedication to integrating sustainable business practices.
How to Apply
Fashion Consultant Jobs in Qatar
To genuinely inspire, excite, and delight our consumers, it takes a diversity of thought, culture, background, and perspectives. We at Chalhoub Group are dedicated to diversity and inclusion.
All candidates are encouraged to apply and take part in our promising future. We guarantee equal opportunity for all of our candidates, regardless of gender, age, ethnicity, religion, country origin, or status as a person with a handicap.
Disclaimer: Please note that joblees.com only provides jobs in a single place for our valuable users. We are not providing jobs directly or indirectly. Apply for the jobs at your own risk. Thank you