Senior Mechanical Engineer Job in Saudi Arabia 2023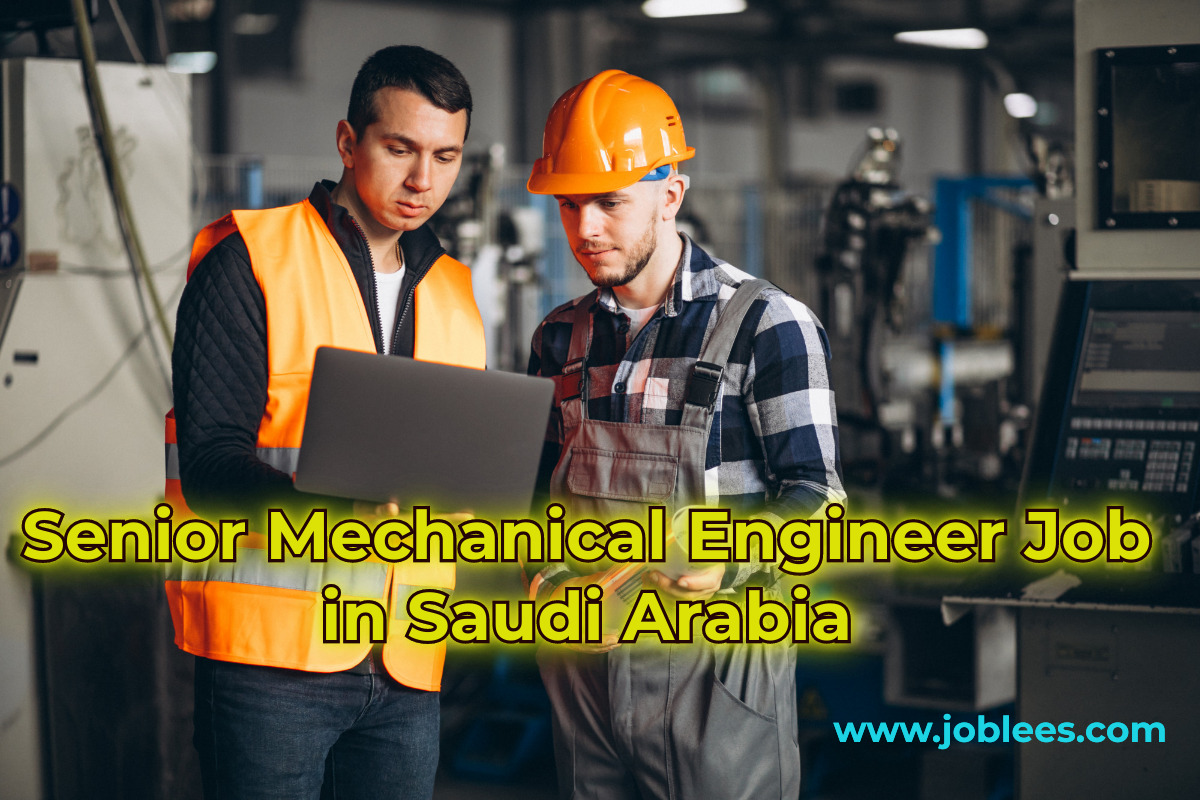 If you are interested, here are excellent jobs opportunity. Atkins Middle East announced Senior Mechanical Engineer Job in Saudi Arabia. More details about these jobs are as below.
Senior Mechanical Engineer Job in Saudi Arabia
We are looking for Senior/Principal Mechanical Design Engineer in Riyadh, Saudi Arabia 2023
| | |
| --- | --- |
| Hiring Company | Atkins Middle East |
| Position | Senior Mechanical Engineer |
| Job Location | Riyadh, Saudi Arabia |
| Job Type | Full Time |
Senior Mechanical Engineer Job in Saudi Arabia
Also Read: Finance Assistant Job in Saudi Arabia
Description
Senior Mechanical Engineer Job in Saudi Arabia
The Atkins office in Riyadh is dedicated to design excellence in the creation of first-rate solutions that combine innovation, inventiveness, and best practises. Atkins is a provider of multi-disciplined technical services to the built environment.
Atkins offers unrivalled chances for bright people looking for a fulfilling career in the Middle East and throughout the world as one of the top consultancies in the world operating in the built and natural environment.
For those seeking to broaden their global experience while working with a multidisciplinary team of building services engineers who offer a comprehensive design service, this is the perfect opportunity.
Responsibilities
Senior Mechanical Engineer Job in Saudi Arabia
Supervise project teams that have the skills, resources, and procedures necessary to produce building services designs that are affordable.
To provide mechanical design services for projects from concept to construction issue.
Representing Atkins in client meetings
Communicate with Local Regulatory Authorities
Writing Technical Reports
Participate in workshops and multidisciplinary coordination
Assure that the design incorporates Quality Assurance/Quality Control procedures. – Assume technical responsibility for the quality of design outputs.
Take the reins in the continual due diligence process and risk mitigation techniques pertaining to technical services to enable ongoing technical operations improvement.
Have a thorough awareness of sustainability-related topics, such as passive design, low-carbon, or other modern technology.
Be familiar with and operate the Microsoft Office product suite and other pertinent design software programmes. also be familiar with Revit, BIM, and related design management software.
Manage one's own workload and the workload of other project team members. Prepare and manage project budgets. Conduct periodic project reviews to make sure technical and programme restrictions are met.
Requirements
Senior Mechanical Engineer Job in Saudi Arabia
Minimum degree qualification in the mechanical discipline
Professionally fully certified and knowledgeable of the pertinent market.
Over 13 years of pertinent and sufficient experience as a mechanical engineer
Chartered Institution Member (or similar) with Related Experience
Full familiarity with every stage of the design process, from the pre-concept stage through the tender/contract documentation
Expertise in completing projects in collaboration with distant design centres is required. – Ability to operate independently while working in a team
Demonstrated experience as a designer and technical authority in a design consultancy.
Outstanding abilities and expertise for working in a design consultancy with solid familiarity with national and international codes and regulations.
Rewards & Benefits
We offer an excellent package which includes
A competitive salary
– Transportation allowance
– Medical and life insurance cover
– 22 calendar days annual leave
– Medical and life insurance cover
– Company gratuity scheme
– Discretionary bonus scheme
– Annual flight allowance to point of origin
About the Company
One of the top providers of expert, technologically based consulting and support services to business, government, and other sectors in all of the world's major economies is Atkins. Atkins has a wide range of talents and resources, employs over 17,000 people across Europe, the Middle East, Asia Pacific, and the Americas, and offers Clients a comprehensive service throughout the whole life cycle of built environment projects.
How to Apply
If you are interested in the Senior Mechanical Engineer Job in Saudi Arabia, please send your CV to the email address given below. You may also contact the job provider at the phone number.
Disclaimer
Please note that joblees.com only provides jobs in a single place for our valuable users. We are not providing jobs directly or indirectly. Apply for the jobs at your own risk. Thank you