UK Jobs
Head Chef for Hyderabadi Restaurant in United Kingdom 2023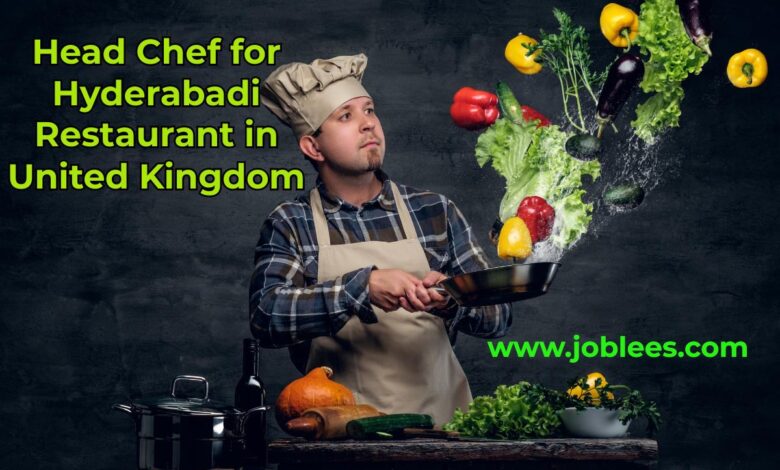 If you are interested, here are excellent jobs opportunity. LONDON SPICE F H C LTD announced the Head Chef for Hyderabadi Restaurant in United Kingdom. More details about these jobs are as below.
Head Chef for Hyderabadi Restaurant in United Kingdom
Eastham, London's Hyderabadi Spice restaurant opened its doors in 2008. began with the goal of allowing Asian, non-Asian, and other populations of people to enjoy the flavor of genuine Hyderabadi food, particularly Hyderabadi Biryani that is comparable to Nizam's Kitchen. With a small, focused workforce, our one and only goal is to provide our guests with the greatest taste and a home-away-from-home experience.
Hiring Company
LONDON SPICE F H C LTD
London Spice Finest Hyderabad Cuisine
Position
Chef
Salary
£20,500 to £25,800 per year
Hours
Full time
Job location
Harrow Weald, Harrow
Closing Date
16 January 2023
Head Chef for Hyderabadi Restaurant
Summary
To provide amazing Hyderabadi cuisine experiences for London Spice Finest Hyderabad Cuisine on a full-time basis, we are now hiring an enthusiastic Head Chef.
Complex regional dishes from Hyderabad are prepared, junior chefs are trained and overseen, stock is controlled, quality is checked, health and hygiene compliance and HACCP protocols are followed, food safety and temperatures are monitored, equipment is kept clean and organized, cost analysis and review is completed, reports and schedules are created, and other important tasks are carried out as needed.
Additionally, you should be: –
• Driven by performance, accomplishment, and outcomes
• Be detail-oriented
A hardworking, meticulous, and conscientious person who is able to work well with others. Creative, enthusiastic, and passionate about providing culinary quality. Fast-paced and able to operate under pressure.
Benefits
Incentives to increase income, an employer-sponsored workplace pension, meals while on duty, and more
Prospects: Salary review; commendation and award for exceptional effort and performance.
How to Apply
Click the following link and apply online for the post of Head Chef for Hyderabadi Restaurant in United Kingdom
https://findajob.dwp.gov.uk/sign-in?after_login=%2Fapply%2F11069979
Disclaimer: Please note that joblees.com only provides jobs in a single place for our valuable users. We are not providing jobs directly or indirectly. Apply for the jobs at your own risk. Thank you