Toyota Service Technician Jobs in UAE-2023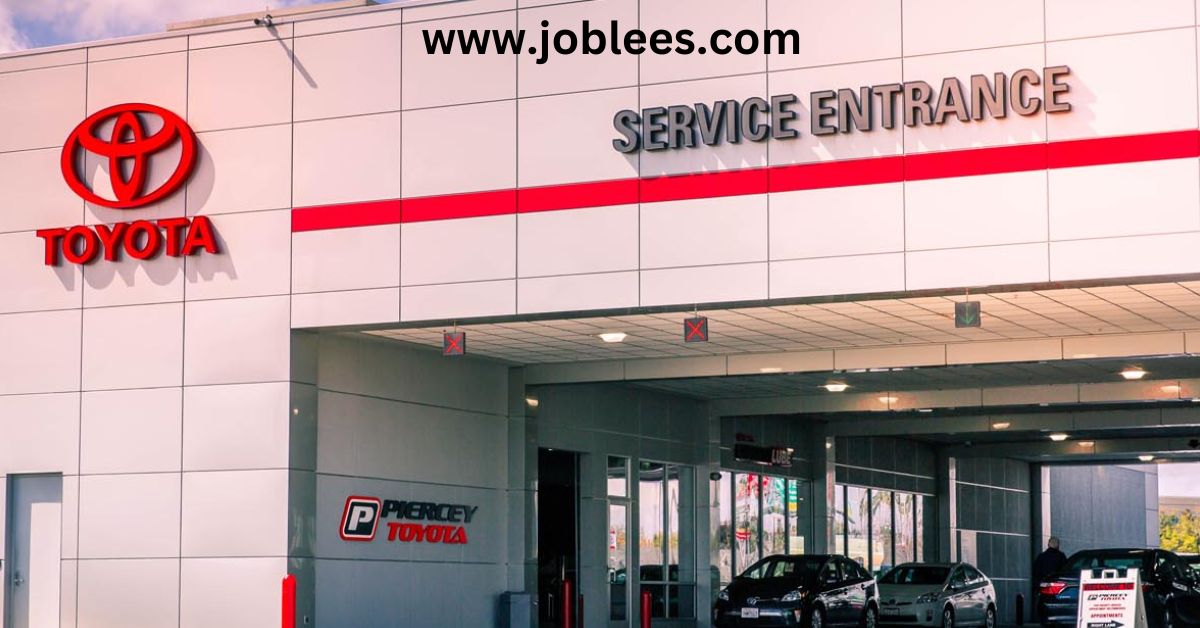 If you are interested, here are excellent jobs opportunity. Al Futtaim Private Company announced the Toyota Service Technician Jobs in Sharjah 2023. More details about these jobs are as below.
Toyota Service Technician Jobs in Sharjah
| | |
| --- | --- |
| Hiring Company | Al Futtaim Private Company |
| Position | Toyota Service Technician jobs |
| Job location | Sharjah, AE |
| Experience | 2-3 Years |
| Job Requisition ID | 140805 |
Toyota Service Technician
Description
Al-Futtaim Group, which began as a trade company in the 1930s, is now one of the most diverse and forward-thinking privately held regional companies with its headquarters in Dubai, United Arab Emirates. Al-Futtaim Group partners with more than 200 of the most admired and innovative brands in the world. The group is organised into five operating divisions: automotive, financial services, real estate, retail, and healthcare. It employs more than 35,000 people across more than 20 countries in the Middle East, Asia, and Africa. Due to its entrepreneurial spirit and unwavering commitment to its consumers, Al-Futtaim Group is able to adapt to the shifting demands of its clientele in the communities in which it conducts business.
By upholding our values of respect, excellence, collaboration and integrity; Al-Futtaim Group continues to enrich the lives and aspirations of our customers each and every day
Overview of the role
Toyota Service Technician Jobs:
To join our Toyota Team in the UAE, we are seeking to hire a skilled General Technician. You will do preliminary inspections, routine maintenance, and small repairs. These occupations make up a sizable portion of the service industry and its clients, which has an impact on the market's image. You will make sure that the job is done in a safe, orderly, effective, and in accordance with suggested processes.
What you will do
Exhibit activeness in carrying out the prescribed jobs in order to complete them on time.
Ensure basic safety procedures are quickly learned and followed for own and other's wellbeing.
Exhibit enthusiasm and interest in various classroom and on the job-training course for achieving professional competence.
Ensure cleanliness of workplace, tools and equipment.
Ensure strict adherence to Company rules, regulations and procedures; ask when in doubt.
Ensure that all vehicle repair or service are of highest Lexus quality.
Required skills
Possess Diploma Technical certification, ITI (Industrial Training Institute NCVT Certificate) or ITC or Diploma in Automobile Engineering or ITI Mechanic
At least 2 years' experience as a General Repair / Diagnostic Technician coming from automotive dealerships
Ability to use the diagnostic equipment to inspect Engine, Transmission, Brake, suspension A/C electrical and hybrid system of the vehicles
Able to read, understand, speak and write English well enough to follow mandated trainings and standard instructions.
About the team
Toyota Service Technician Jobs
Toyota Service Technician Jobs in Sharjah. You will be working in a busy workshop setting where you will regularly interact with the Service Advisor, Controller, Foreman, and co-Technicians in this post, which reports to the Workshop Manager.
What equips you for the role
Technical certification by a diploma, ITC, or ITI (Industrial Training Institute NCVT Certificate)
two to three years of general technician experience
Having a legal driving licence in the UAE is advantageous
For the purpose of keeping correct records in task orders, one must read, analyse, and transcribe data.
Learn to utilise the diagnostic tools to examine the vehicle's engine, transmission, brakes, suspension, A/C electrical system, and hybrid system. Develop an openness to take advice and direction from more technical advisors and technical leaders.
knows the procedure and adheres to it when required, as well as the demands of the AFM. Toyota after sales
English must be spoken fluently.
About Al-Futtaim Automotive
Al-Futtaim Automotive, a significant part of the UAE-based Al-Futtaim Group of Companies, is a market leader with operations in ten nations around the Middle East, Asia, and Africa.
Al-Futtaim Automotive's primary commercial endeavors include distribution, manufacture, leasing, and aftersales. We are also well-established as the regional distributor for some of the most recognizable automakers in the world, including Toyota, Lexus, Honda, Jeep, Chrysler, Dodge, Volvo, and RAM.
With a focus on the needs of our diverse customer base, including motoring enthusiasts, fleet operators, and contractors, we constantly push the envelope in terms of innovation, quality standards, and value-added service. Our goal is to dominate the market for tailored mobility solutions by providing nothing less than top-notch omni-channel experiences.
In order to provide one of the most complete portfolios of mobility goods and solutions, ranging from passenger cars to SUVs, electric vehicles to high-performance motorbikes, commercial vehicles to industrial & construction equipment, we channel our local experience and worldwide trust.
A workforce of 9000 people, with great opportunities for progression across the professional path, keeps the organization going ahead. Al-Futtaim Automotive is here, and we enable talent to advance.
How to Apply
Please click the following link and upload your CV for the post of Toyota Service Technician Jobs in Sharjah
https://career5.successfactors.eu/careers?company=C0001144036P
Disclaimer
Please note that joblees.com only provides jobs in a single place for our valuable users. We are not providing jobs directly or indirectly. Apply for the jobs at your own risk. Thank you