USA Jobs
Electrician Jobs in United States 2023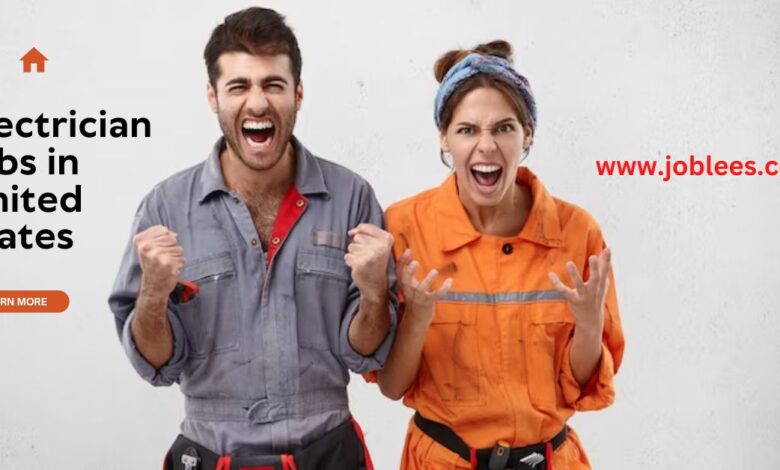 If you are interested, here are excellent jobs opportunity. The Department of Military and Veterans Affairs is seeking a skilled Electrician Jobs in United States 2023. More details about these jobs are as below.
Electrician Jobs in United States
| | |
| --- | --- |
| Hiring Department | The Department of Military and Veterans Affairs |
| Position | Electrician |
| Job Location | Montgomery County, PA |
| Salary | $37,144.00 – $55,433.00 Annually |
| Job Type | Non-Civil Service Permanent Full-time |
| Job Number | N-2023-43874 |
| Job Code | 94410 |
| Position Number | 00286607 |
| Closing date and time | 2/17/2023 at 11:59 PM Eastern Time (US & Canada) |
Also Read: Personal development and self-improvement
Description
THE POSITION Electrician Jobs in United States
Are you a qualified electrician seeking a fulfilling job opportunity? For the Horsham Airbase, the Department of Military and Veterans Affairs is looking for a qualified electrician. We are interested in hearing from you if you satisfy the qualifications for the role.
DESCRIPTION OF WORK
At the Horsham Airbase in Horsham, Pennsylvania, this full-time electrician position works in a variety of buildings and on the surrounding grounds. You'll do routine electrical work.
Additional Information
Full-time employment.
Work hours are 7:00am to 3:00pm, Monday – Friday, with 30-minute lunch.
Salary: In some cases, the starting salary may be non-negotiable.
You will receive further communication regarding this position via email. Check your email, including spam/junk folders, for these notices.
REQUIRED EXPERIENCE, TRAINING & ELIGIBILITY
QUALIFICATIONS
Minimum Experience and Training Requirements:
Four years of experience installing, repairing, and maintaining electrical systems, components, and equipment; or
Successful completion of the Electrician Trainee program (commonwealth title); or
An equivalent combination of experience and training.
BENIFITS
Electrician Jobs in United States
Health & Wellness
Compensation & Financial Planning
Work/Life Balance
Values and Culture
Employee Perks
How to Apply
The information contained in resumes, cover letters, and other similar papers won't be inspected or taken into account when considering your suitability for the job. On your application, you must provide details (such as pertinent, in-depth experience or education) that demonstrate your suitability for the position.
By the deadline for applications, you must have filed your application. Applications submitted after the deadline and other necessary documentation won't be accepted.
For your claim to be approved as satisfying the minimal standards, you must include a copy of your college transcripts if you claim education in your answers to the extra application questions. Transcripts that are not official are accepted.
The preceding application conditions must be followed in order for your application to be considered.
If you are interested in the Electrician Jobs in United States, please click the following link.
Disclaimer
Please note that joblees.com only provides jobs in a single place for our valuable users. We are not providing jobs directly or indirectly. Apply for the jobs at your own risk. Thank you