Transportation Security Officer Job in United States 2023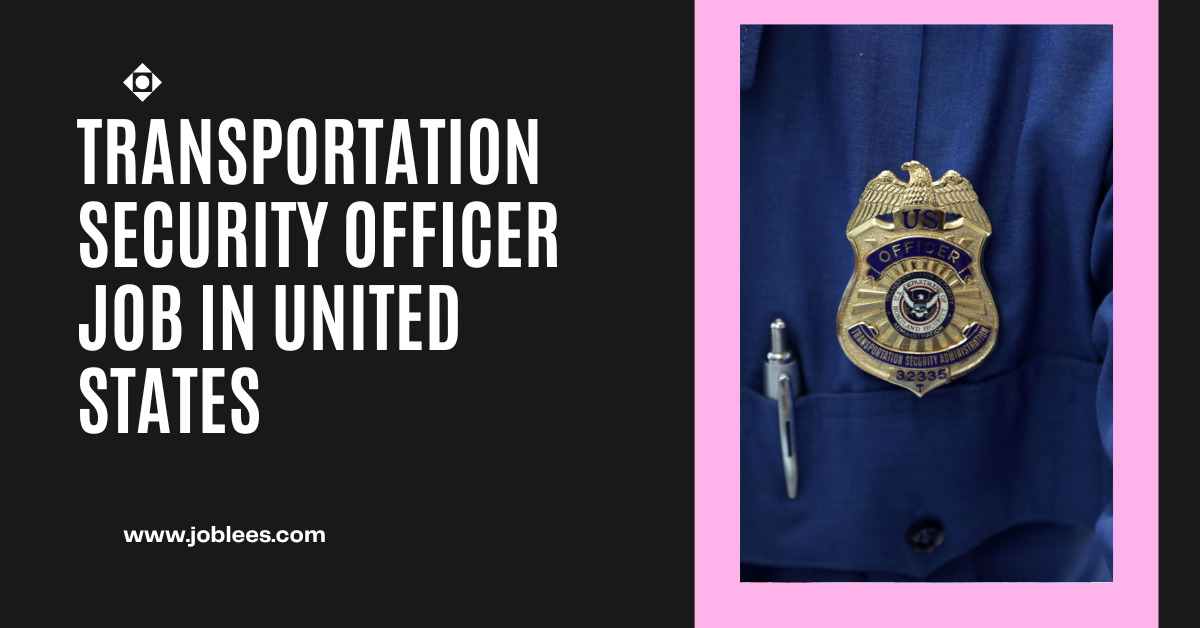 If you are interested, here are excellent jobs opportunity. DEPARTMENT OF HOMELAND SECURITY announced the Transportation Security Officer Job in United States. More details about these jobs are as below.
Transportation Security Officer Job in United States
| | |
| --- | --- |
| Hiring Company | Department of Homeland Security US |
| Position | Transportation Security Officer |
| Salary | $22.94 – $32.77 per hour |
| Pay scale & grade | SV D |
| Job Location | Dickinson, ND |
| Last Date | 1 May 2023 |
Transportation Security Officer Job
Also Read: Computer Programmer Jobs in Canada
Description
The job of a transportation security officer is to provide courteous, professional security and protection of passengers in all transportation sectors. Their responsibilities may also include protecting prominent people, events, and/or things that involve or have an impact on our transportation systems.
Duties
TSOs (Transportation Security Officers) offer courteous and professional security and protection of passengers, airports, and planes. This includes:
Utilizing a variety of screening tools and technology to find dangerous items in luggage, cargo, and people, and prohibiting their transfer onboard aircraft.
Conducting bag searches, lifting/carrying bags, bins, and property weighing up to 50 pounds, as well as engaging in personal contact with passengers (such as pat-downs and property searches).
Regulating the terminal's entrance and exit locations.
interacting with the general population, providing directions, and answering questions.
In order to preserve one's professional ability to recognise and locate potentially life-threatening or mass destruction devices, as well as to make wise decisions in both emergency and routine situations, one must maintain focus and awareness while working in a stressful environment that includes noise from alarms, machinery, and people, crowd distractions, time pressure, and disruptive and angry passengers.
by recognizing, analyzing, and putting into precise the proper situational options and tactics, one can continuously improve their critical thinking abilities, which are important to combat both real and imagined security threats.
Depending on the needs of the programme, risk-based security screening procedures may be used.
Requirements
Transportation Security Officer Job in United States
Must be a U.S. Citizen or U.S. National and at least 18 years of age
Pass a drug screening, medical evaluation, and background investigation
Subject to post-employment random drug and/or alcohol testing
Must be registered for Selective Service (males born after 12/31/59)
Must be available to work various shifts and overtime, as needed
Mandatory travel for training and occasional travel may be required
The requirements listed above must be met at the time of application submission.
Qualifications
Have a high school diploma, General Educational Development (GED), High School Equivalency Test (HiSET), or Test Assessing Secondary Completion (TASC) credential
Be proficient in the English language
Benefits
A career in the U.S. government offers its employees a wide range of advantages. You and your family will have access to a variety of benefits as a federal employee that are intended to make working for the government very rewarding.
How to Apply
If you are interested in the Transportation Security Officer Job in United States, please send your CV to the email address given below.
Disclaimer: Please note that joblees.com only provides jobs in a single place for our valuable users. We are not providing jobs directly or indirectly. Apply for the jobs at your own risk. Thank you