Gulf Jobs
Light Vehicle Driver Job in Sharjah, UAE 2023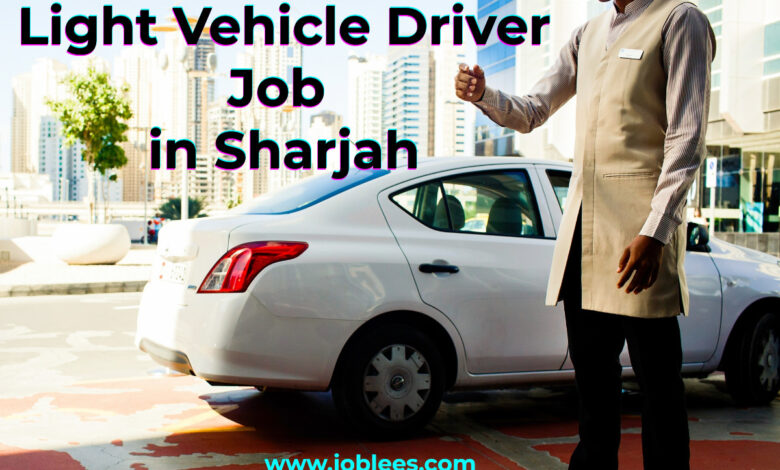 Are you searching for a Light Vehicle Driver Job in Sharjah, UAE?
If you're a skilled driver looking for a job as a Light Vehicle Driver in Sharjah, UAE, you're in luck! There are many opportunities available for drivers with the right experience and qualifications. To increase your chances of finding the perfect job. More details about these jobs are as below.
Light Vehicle Driver Job in Sharjah
| | |
| --- | --- |
| Company | Food & Packaged Food company |
| Position | Driver |
| Salary | AED 3501-4000 |
| Job location | Sharjah, UAE |
| Gender | Male |
| Last Date | 30 March 2023 |
Light Vehicle Driver Job in Sharjah
Job Description
Drivers may have to work nights and weekends in order to complete their tasks, which include prompt client transportation and delivery. The following are typical tasks and obligations for drivers:
Transport clients and/or packages to and from destinations
Arrive at destinations on schedule
Fulfill administrative needs, like office pickups
Research and plan for traffic, construction and weather delays
Use navigation applications to determine the best route
Interact with clients professionally at all times
Ensure that the vehicle is always fueled and ready for use
Arrange for vehicle repairs as needed
Keep mileage records and repair records up-to-date
Skills and qualification
A qualified driver candidate should possess the following abilities and credentials:
To execute the job safely, you must have a valid driver's licence and at least one year of driving experience.
Good navigational abilities, including the ability to use navigational tools to locate delivery locations
For tracking delivery and staying on schedule, you'll need time management and organizing abilities.
exceptional interpersonal and communication abilities while interacting with clients
to lift big bags, parcels, and other items and to be able to load and unload them from a vehicle, one must have the physical stamina and upper body strength to do so.
How to Apply
If you are interested in the Light Vehicle Driver Job in Sharjah, please send your CV to the email address given below.
Disclaimer: Please note that joblees.com only provides jobs in a single place for our valuable users. We are not providing jobs directly or indirectly. Apply for the jobs at your own risk. Thank you