Heavy Vehicle Driver Jobs in Dubai UAE 2023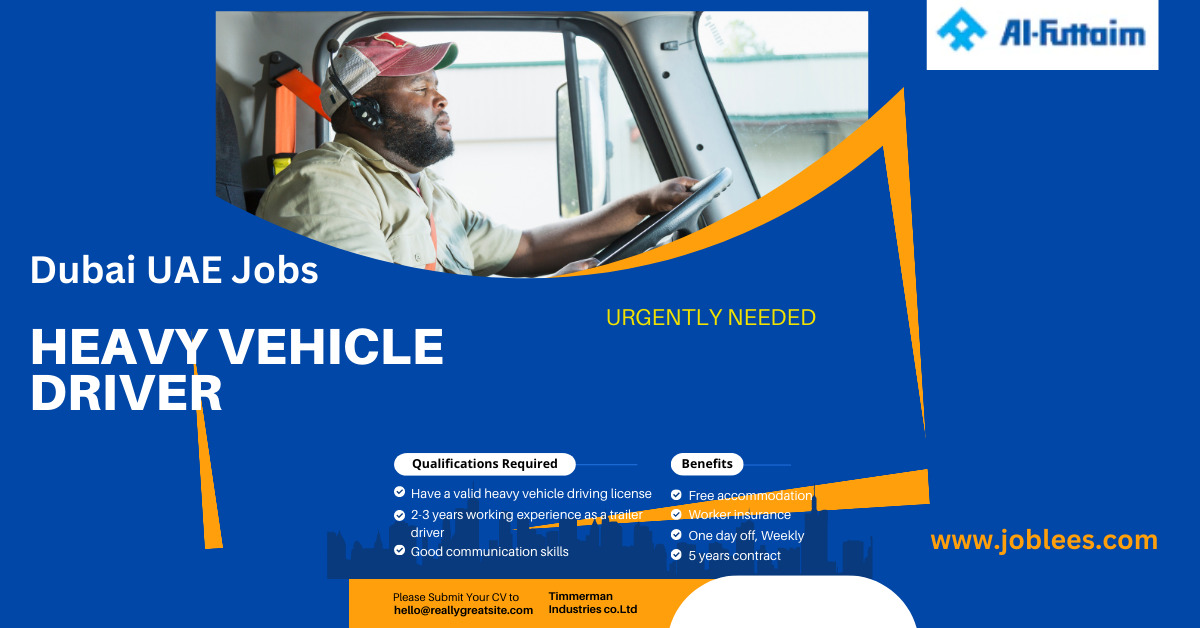 If you are interested, here are excellent jobs opportunity. Al Futtaim announced the Heavy Vehicle Driver Jobs in Dubai UAE 2023. More details about these jobs are as below.
Heavy Vehicle Driver Jobs in Dubai UAE
| | |
| --- | --- |
| Hiring Company | Al Futtaim |
| Position | Heave Vehicle Driver |
| Location | Dubai UAE |
Heavy Vehicle Driver Jobs in Dubai UAE
Also Read: Dubai Real Estate
Description
to make sure that all chauffeured and managed transportation services, as well as events, are carried out in accordance with established timetables, financial goals, and contract requirements in Abu Dhabi, Dubai, and the Western and Northern Emirates. In addition, you'll be in charge of managing the monthly project reports for things like Time Management/Overtime, driver scheduling, efficient resource allocation, Annual Leave, and Fuel costs. Continuous improvement is essential to attaining the financial and operational aims, thus this must be done in the most economical and efficient manner possible.
Responsibilities
Heavy Vehicle Driver Jobs in Dubai UAE
1. To be the first escalation point when Customer requires assistance.
2. Ensure the schedules are effectively communicated to the client / Drivers and identify the variations, planned vs actual.
3. Quick response on business requirements, emails & phone calls
4. Ensure sufficient resources reserved for the project – drivers, prepared vehicles, backup resources and support services available for each shift.
5. Ensure the Manager is aware of any challenges with vehiclestaffing or routes requirements.
6. Regular meetings with drivers and cascade the company / department strategy and objectives.
7. Drivers Management/ location rotations and other ad-hoc requirements,
8. Provide Drivers tool box talk to the drivers. Ensure the grooming standards are maintained all the time .
9. Follow drivers induction activities before deployment .
Skills
Min 1 year experience in Administration or similar role
• Over 3 years' experience in passenger transportation service / business
• Fair working knowledge in computers.
• Good Communication Skill in English & Hindi
• Ability to plan and organize schedule effectively
• Good knowledge on Dubai & Auh roads & directions to guide the drivers team.
• UAE Driving License – Heavy Bus
How to Apply
If you are interested in the Heavy Vehicle Driver Jobs in Dubai UAE, please send your CV to the email address given below.
Disclaimer
Please note that joblees.com only provides jobs in a single place for our valuable users. We are not providing jobs directly or indirectly. Apply for the jobs at your own risk. Thank you