Gulf Jobs
Data Entry Operator Jobs in Dubai 2023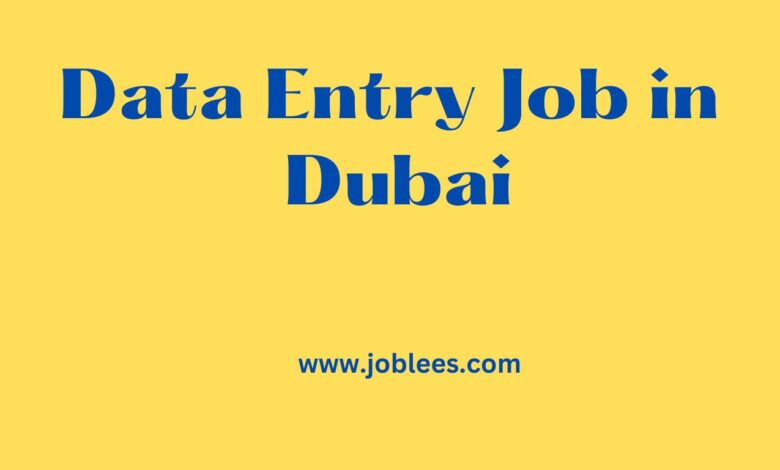 Data Entry Operator Jobs in Dubai have been made available right away by the expanding automotive sector. Both male and female applicants can apply for full-time positions at the business. Al Qusais, Dubai, is the workplace's location (UAE).
Our reputable business advertised career management positions to recruit qualified workers from across the globe. However, the corporation offers all fundamental perks to its workers, including housing, healthcare, insurance, paid time off, and transportation. People must also be aware of the nature, responsibilities, and tasks of their jobs and act appropriately. Due to the fact that there are now openings, qualified candidates with experience should apply.
Data Entry Operator Jobs in Dubai
Check out more details about these jobs in the United Arab Emirates below:
Position Title: Data Entry Operator
Number of Vacancies: Not mentioned
Job Location: Al Qusais, Dubai
Salary
The company gives 2000 to 2500 AED per month
Qualification
The applicants for these positions must hold a bachelor's degree in management or accounting. possessing solid English speaking and writing abilities.
Experience
The candidates must have a minimum of one to two years of experience working in the same capacity for a reputable organisation or business.
Requirements & Duties
The candidates will have;
Respond to information requests and obtain pertinent files
Make careful you utilise workplace equipment properly.
Address any equipment issues in the offices as well.
Data entry from source documents into established formats
Observe data security and integrity policies.
Additionally, the ability to enter legitimate data in the correct order while excluding bogus data
Must adhere to corporate policies and procedures.
Obey directions from superiors or management, and act appropriately.
Effective interpersonal skills are necessary, as are effective communication and presentation abilities.
Ability to effectively manage time and workload and carry out necessary tasks
Should be on time and offer help as needed to the employees
Knowledgeable in the newest technology. computer programmes for data entry
How To Apply?
If you are interested in these Data Entry Operator Jobs in Dubai, please send your CV to the email address given below. You may also contact the job provider at the phone number.
Email: [email protected]
Contact No: +971527389205
Disclaimer: Please note that joblees.com only provides jobs in a single place for our valuable users. We are not providing jobs directly or indirectly. Apply for the jobs at your own risk. Thank you