Bank Reconciliations Executive Job in Dubai UAE 2023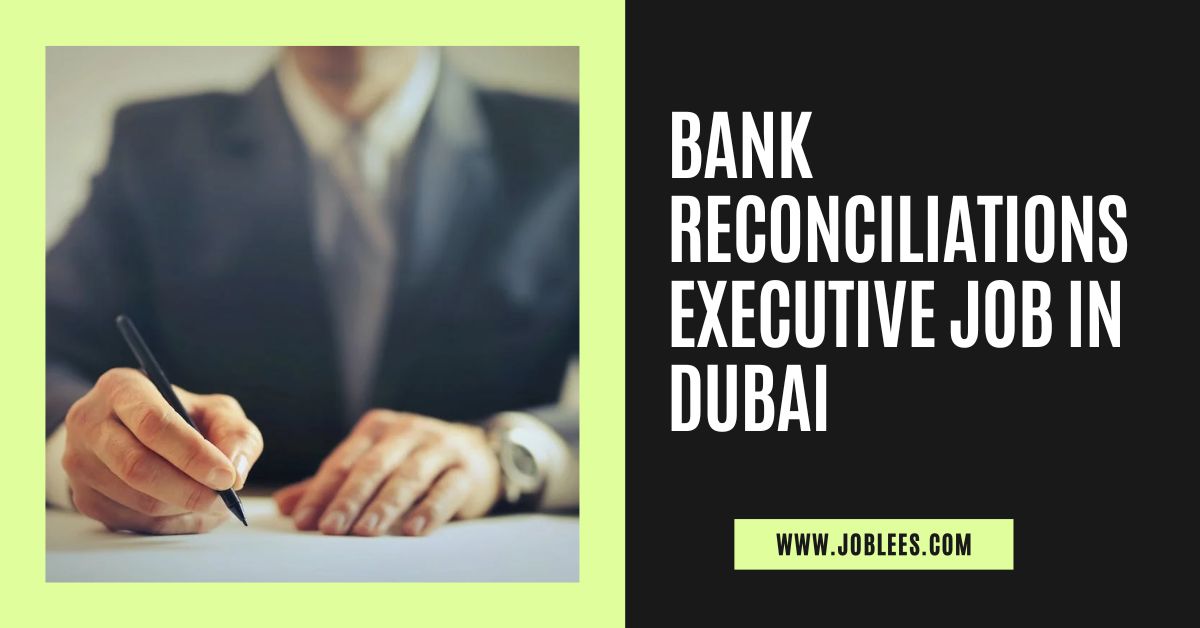 If you are interested, here are excellent jobs opportunity. Al Futtaim announced the Bank Reconciliations Executive Job in Dubai UAE 2023. More details about these jobs are as below.
Bank Reconciliations Executive Job in Dubai
Come join us to live well, work better, and be the best
| | |
| --- | --- |
| Hiring Company | Al Futtaim Private Company LLC |
| Job Position | Bank Reconciliations Executive |
| Job title | Bank Reconciliations Executive Job in Dubai UAE 2023 |
| Location | Dubai, UAE |
| Qualification | bachelor's degree in commerce |
| Job Requisition ID | 152241 |
Bank Reconciliations Executive Job in Dubai
Description
As a member of the bank reconciliations team, you will assist the business units and divisional finance controlling teams in timely credit confirmations, timely reconciliation of the group's bank accounts, and related reporting. You will also assist the business units in improving customer experience.
Responsibilities Bank Reconciliations Executive
Receipt of Bank statements and Balance validation
Ensure all the Bank statements are received in SAP after due follow-up with the banks as required
In case of delays in receipt of bank statements or where automated receipt of bank statements is not enabled, manually download the statements from online banking platforms.
In case of Bank statements downloaded manually, ensure that the closing balance of the previous day matches with the opening balance of the current day.
Reconciliation of bank accounts:
Run the scheduler to automatically clear open line items where matching references exist.
Perform manual matching of open line items wherever possible after ensuring adequate matching criteria exist and due confirmations are obtained
Reporting of open line items:
Ensuring that all the open line items at the end of the day are reported to relevant internal stakeholders- Business Finance, Divisional Financial Controlling, FSSC-O2C, FSSC- I2P, Global Treasury Centre etc. for timely investigation and resolution.
Ensuring that any open items that needs investigated at the banks' end are reported to the banks for investigation and resolution
Ensuring that any instances of cheque dishonours and amounts debited by bank but not accounted by us are promptly bought to the notice of businesses/other concerned stakeholders.
Credit confirmations:
Ensuring that all queries from business teams in relation to deposit of cash or cheques by customers are reviewed and responded after referring to the online banking reports so that timely delivery of goods/services by business teams is ensured
Accounting and Audit:
Ensuring all bank charges are accounted in consultation with Treasury and FSSC-I2P.
Supporting internal and external audit processes in relation to bank reconciliations
Requirements Bank Reconciliations Executive Job in Dubai
Professional accounting qualification
A bachelor's degree in commerce/financial management/ accountancy with about three years of experience within the bank reconciliations function of a medium to large organization or banks.
Analytical, process oriented, good communication skills, exposure to ERP
Should be able to plan and prioritize tasks, persuasive skills, Kaizen attitude, Self-motivated; and a strong team player.
How to Apply
If you are interested in the Bank Reconciliations Executive Job in Dubai, please click the following and apply online
Disclaimer
Please note that joblees.com only provides jobs in a single place for our valuable users. We are not providing jobs directly or indirectly. Apply for the jobs at your own risk. Thank you