USA Jobs
Adult Basic Education Teacher Jobs in USA 2023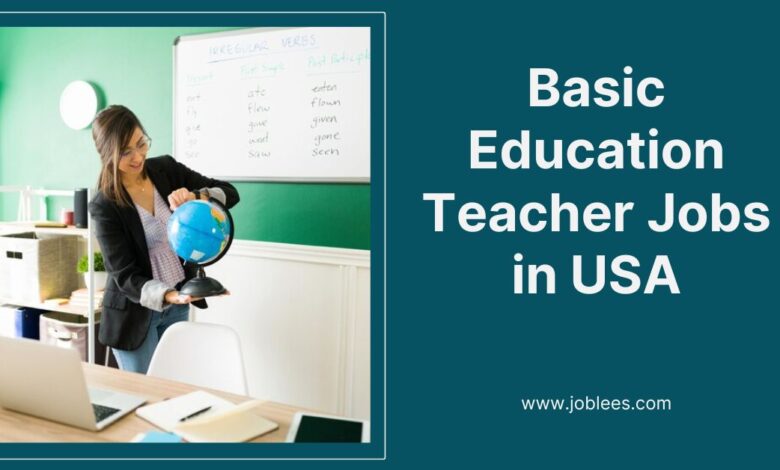 If you are interested, here are excellent jobs opportunity. Department of Corrections USA announced the Adult Basic Education Teacher Jobs in USA 2023. More details about these jobs are as below.
Adult Basic Education Teacher Jobs in USA
| | |
| --- | --- |
| Hiring Company | Department of Corrections |
| Position | Teacher |
| Job title | Adult Basic Education Teacher Jobs in USA |
| Location | Albion, Pennsylvania |
| Salary | $57,361.00 – $103,886.00 Annually |
| Job Type | Civil Service Permanent Full-Time |
| Job Number | CS-2023-43350-25900 |
| Position Number | 00080818 |
| Job Code | 25900 |
| Closing Date | 2/16/2023 11:59 PM Eastern |
Adult Basic Education Teacher Jobs in USA
DESCRIPTION
Adult Basic Education Teacher Jobs in USA
Start your teaching career's next chapter! The State Correctional Institution at Albion is actively looking for committed and enthusiastic Educators, according to the Pennsylvania Department of Corrections. You will be a member of a committed team as a teacher of corrections, where cooperation and communication are essential.
The PA Department of Corrections at Albion wants to hear from you if you have the necessary teaching experience as listed below and want to pursue a meaningful job that gives the chance to share your abilities while earning a fantastic pay and benefits.
DESCRIPTION OF WORK
You will be in charge of teaching adult offenders at the Department of Corrections' State Correctional Institution in Albion as an adult basic education teacher. You will be creating lesson plans by outlining the topics and exercises to be covered, the order of teaching, the supplies required, and the expectations for lesson completion. To ascertain the learning readiness and skills of adult prisoners, you will be putting together assessment methodologies and assessing the data acquired. Additionally, you will be creating and giving out activities, examinations, and quizzes to guide students' study and assess their individual progress.
Additional Information
Full-time employment, 37.5-hour work week.
Work hours are 7:45 am to 3:45 pm, Monday – Friday, with 30-minute lunch.
Salary: In some cases, the starting salary may be non-negotiable.
This position is eligible for full retirement benefits at age 50 or 55.
You will receive further communication regarding this position via email. Check your email, including spam/junk folders, for these notices.
QUALIFICATIONS
Adult Basic Education Teacher Jobs in USA
A bachelor's degree in education
A bachelor's degree and either one year of classroom instruction experience
Other Requirements Adult Basic Education Teacher Jobs in USA
BENEFITS
Health & Wellness
Compensation & Financial Planning
Work/Life Balance
Values and Culture
Employee Perks
How to Apply
The information contained in resumes, cover letters, and other similar papers won't be inspected or taken into account when considering your suitability for the job. On your application, you must provide details (such as pertinent, in-depth experience or education) that demonstrate your suitability for the position.
For your claim to be approved as satisfying the minimal standards, you must include a copy of your college transcripts if you claim education in your answers to the extra application questions. Transcripts that are not official are accepted.
By the deadline for applications, you must have filed your application. Application materials that are submitted after the deadline will not be accepted.
If you are interested in the Adult Basic Education Teacher Jobs in USA, please apply now.
Disclaimer: Please note that joblees.com only provides jobs in a single place for our valuable users. We are not providing jobs directly or indirectly. Apply for the jobs at your own risk. Thank you