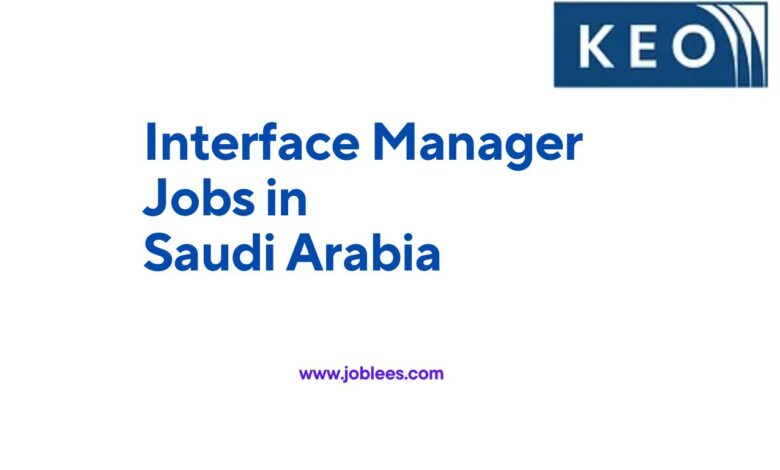 If you are interested, here are excellent jobs opportunity. The KEO announced the Interface Manager Jobs in Saudi Arabia. More details about these jobs are as below.
Interface Manager Jobs in Saudi Arabia
| | |
| --- | --- |
| Company | KEO |
| Job Positions | Interface Manager Jobs in Saudi Arabia |
| Job Category | Civil Engineering |
| Job location | Saudi Arabia |
Overview
KEO is a creative company where innovation is ingrained in all they do. In the built and natural settings, we are uniquely equipped with end-to-end services to take customers from inspiration through conception to project implementation. We have been providing visionary leadership for more than 57 years, supporting some of the most ambitious projects, iconic locations, life-changing experiences, and thriving communities.
KEO is listed by ENR in the Top 225 International Design Firms, in the Top 20 International PM/CM Firms, and by World Architectural as the 50th biggest worldwide architecture company and the #1 Business in the Middle East Region in their 2021 WAS 100 Survey as a highly integrated and agile AEP/PMCM firm.
We invite you to join us
A qualified Senior Interface Engineer is needed to join our award-winning team in Red Sea, Saudi Arabia. This is our newest opening. By creating a project-wide WBS, this crucial function will be in charge of ensuring that the project is delivered in accordance with the client's needs. Additional responsibilities include creating and maintaining a comprehensive master schedule, planning for procurement and logistics, and assisting consultants and contractors in creating their contractual schedules.
Responsibilities
Understanding of technical and design leadership in all facets of the design process, such as production, construction methods, guidelines, regulations, and standards, etc. that pertain to civil and planning engineering.
Putting the interface management process into practice.
Identifying the key issues and tracking their progress, keeping an eye on and updating the interface registers, and attending all meetings pertaining to the interface. Expediting the exchange of Interface Technical Queries involving the contractors as appropriate.
Bringing team leadership abilities and the capability of direct communication with customers, consultants, agencies, local authorities, the design review team, and other KEO workers.
Knowledge of national construction codes, as well as LEED requirements, international building codes, and other sustainability standards.
Putting together and monitoring a project schedule, project plan, and programme
locating and evaluating projects.
How to Apply
Click the following link and apply online Jobs in Saudi Arabia
Disclaimer: Please note that joblees.com only provides jobs in a single place for our valuable users. We are not providing jobs directly or indirectly. Apply for the jobs at your own risk. Thank you