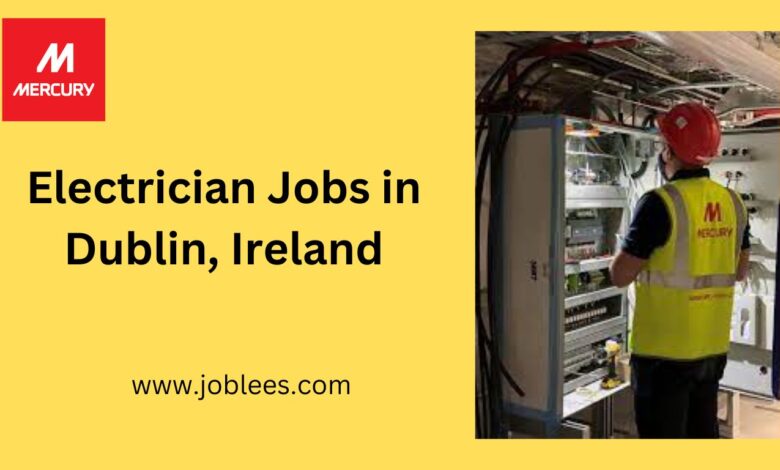 If you are interested, here are excellent jobs opportunity. The Mercury Engineering Company of Ireland announced the Electrician Jobs in Dublin Ireland. More details about these jobs are as below.
Electrician Jobs in Dublin, Ireland
| | |
| --- | --- |
| Hiring Company | Mercury Engineering |
| Positions | Electrician |
| Salary | Not Disclosed |
| Job Location | West Dublin |
| Last Date | Before 15 December 2022 |
Electrician Jobs in Dublin, Ireland
Mercury is an Irish based European Contractor
At Mercury, we create and oversee challenging engineering and construction projects for the top multinational companies.
Our products contribute to the delivery of technologies that link individuals, groups, and organisations, empowering them to do amazing things.
Our workforce have the confidence to be creative. Their tenacity and keen focus allow us to consistently deliver with confidence in a number of important industries, including Data Centers, Semiconductor, Advanced Technology, Live Environment, Fire Protection, Technical Support Services (TSS), Healthcare, and Building Services.
Together with our supply-chain partners, our worldwide team of more than 2,800 employees employs over 8,500 individuals to work on client projects. We have around 16 sites where we operate in Europe, and in 2021, our total revenue exceeded €1.5 billion.
Mercury hires only the most qualified individuals, makes significant training and educational investments, and works to uphold the highest standards of health, safety, and governance throughout the whole organization.
Selection Criteria
The ideal applicant must be a self-starter with the drive and aptitude to prioritise tasks and manage their workload to meet deadlines.
A minimum of two to three years of fully certified experience would be ideal.
Parking is available on-site
from Monday to Friday.
Having the Chance to Work Extra Hours in a Clean Environment
Responsibilities
Electrician Jobs in Dublin, Ireland,
Prepare and install cable containment in accordance with layout plans and specifications
Installed and terminated cable in accordance with site requirements and in a proper way.
Make sure the projects adhere to the site's quality standards and guidelines.
Follow all safety guidelines and directives
Make that the proper PPE is worn on the job site at all times.
Keep the office clean and clutter-free.
Plan and carry out tasks in the most productive way possible.
Place garbage in the appropriate bins.
Follow site directions for RAMS-SPA preparation and execution, among other things.
Skills
Electrician Jobs in Dublin, Ireland
sustaining infrastructures using VMware and Hyper-V
experience with managed AV solution Proficiency with utilising SCCM for delivering packages, updating updates, and deploying Windows using OSD (ESET ERA)
Understanding of email flow (including SFP, DMARC, and NDR troubleshooting)
knowledge about MS SQL Server
understanding of email archiving tools (Veritas)
excellent understanding of mobile operating systems (iOS, Android, Windows)
working familiarity with MDM platforms (AirWatch, MobileIron, In Tune)
prior knowledge of utilizing and troubleshooting Citrix software.
management of monitoring tools (SolarWinds, SCOM, Nagios etc)
How to Apply
Mercury is an equal opportunities employer.
Please click the following link and apply online for the Electrician Jobs in Dublin Ireland
https://www.irishjobs.ie/Jobs/Electrician-West-Dublin-Dublin-Ireland-8874601.aspx#modal
Disclaimer: Please note that joblees.com only provides jobs in a single place for our valuable users. We are not providing jobs directly or indirectly. Apply for the jobs at your own risk. Thank you