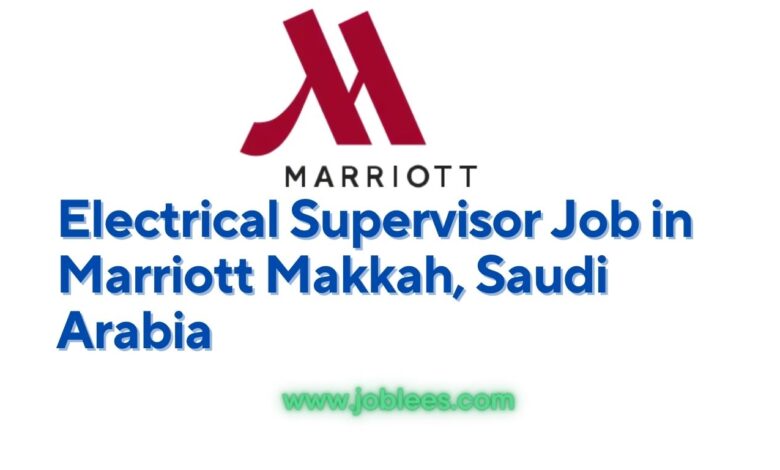 If you are interested, here are excellent jobs opportunity. Electrical Supervisor Job in Marriott Makkah, Saudi Arabia has been announced. More details about these jobs are as below.
Electrical Supervisor Job in Marriott Makkah, Saudi Arabia
Marriott International offers equal employment opportunities. We support maintaining an inclusive, people-first culture and employing a diverse staff. We are dedicated to not discriminating on any legally recognized grounds, including handicap and veteran status, as well as any additional grounds.
| | |
| --- | --- |
| Company | Marriott International |
| Job Position | Electrical Supervisor |
| Job location | Makkah, SA |
| Job Category | Engineering & Facilities |
Electrical Supervisor Job in Marriott Makkah, Saudi Arabia
Summary
Electrical Supervisor Job in Marriott Makkah: Tools, appliances, and equipment should be installed, maintained, given preventative maintenance, and recommended for replacement. Recalibrating all the controls, metres, gauges, etc. Locate, identify, and use each shut-off valve. Ordering, labelling, and stocking supplies and components as needed. Keep track of your inventory and buy orders. Check the machinery, tools, and equipment. Computers are used to enter and find work-related information. using a power lift. Complete the life safety checklist, making sure to test the generator and fire pumps. Examine the alarm and sprinkler systems. aid in the creation of catastrophe response procedures. Attend to and respond to visitor repair needs.
Help the management team with the recruitment, coaching, scheduling, evaluation, counselling, and disciplinary actions. Completing safety training and certifications, reporting maintenance issues, safety risks, accidents, or injuries, and adhering to all corporate and safety and security rules and procedures are all required. Make sure your outfit and demeanor are tidy and appropriate, and uphold the secrecy of any private information. In accordance with business standards, extend a warm welcome to all visitors, pay attention to their demands for service, and help those with impairments. Establish and maintain good working relationships with colleagues, assist the team in achieving its objectives, and pay attention to and effectively address the concerns of other employees. Ensure that quality expectations and standards are followed. Find, suggest, create, and put into practice innovative strategies to improve organizational productivity, efficiency, quality, safety, and/or cost-savings. converse with others.
How to Apply
Get started right away by using your own, individual email or phone number. Your profile will be created and kept up to date automatically as you enter details for each of your job applications. Electrical Supervisor Job in Marriott Makkah
https://ejwl.fa.us2.oraclecloud.com/hcmUI/CandidateExperience/en/sites/CX/job/22184413/apply/email?&utm_medium=jobboard&utm_source=DirectEmployers
Disclaimer: Please note that joblees.com only provides jobs in a single place for our valuable users. We are not providing jobs directly or indirectly. Apply for the jobs at your own risk. Thank you